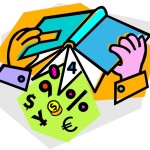 Last week, I was reading the agenda for the mastermind group I attend and listed in the informational section was "15 minutes–social media; 5 minutes–financial".  That's all, just that cryptic statement.  So I started thinking what my business or some of my clients' businesses might look like if we spent 15 minutes each day on social media and 5 minutes a day on their studying their financial information. 
Right now, I know some of you are saying "I spend way more than 15 minutes on social media everyday; to compete I have to spend hours on that stuff".  And that is my point, if you are spending hours on social media and only look at the financial side of your business irregularly or less than monthly, you may be spending time on something (social media) that your financial data will not prove to be useful. 
If I spend 5 minutes everyday on my financial side of my business, I wonder what it will look like at the end of a month, a year? 
Sole Entrepreneurs could use that time to review payments, create invoices for work done that day, track results of marketing.
Small Business Owners with staff to do the bookkeeping could have metrics they track – Monday = leads from referrals; Tuesday = upcoming bills to pay, etc.
Managers and Owners would use the time to catch up on sales numbers or service calls.
The purpose of the agenda item was just that – being proactive on what you spend your time doing is most of the battle.  The links below are to other writers and how they see the use of time on social media.  Helping all employees understand what time is useful and what is wasteful is an ongoing conversation.  If the average Emergency Room Employee is spending 12 minutes per hour on FaceBook, you owe it to yourself to spend at least a few minutes on your financial metrics, after all, cash is the life blood of all businesses.
PS  Not all time on social media is bad.  Superstorm Sandy helped New York Life Insurance Company see how Social Media Grows Up and can be used to reach-out and be helpful.  Debatewise, a site for social interaction on controversy and a great look at the  The Facebook Debate.
Social Media has it's place, AND financial understanding by all business owners is always critically important.  What are you doing to keep your business on track on a daily basis?