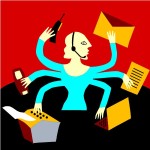 The end of the year is almost here! Now is the time to start the year end processes you should be doing to keep your business organized.
Here are a few ways to make the new year a little less cluttered;
Scan your receipts and invoices and electronically file them by month. Some office programs even allow the electronic copy to be attached to the item. Keep in mind some receipts still need to be originals, so make sure you know what can be scanned and what can not be.
Get rid of old files no longer needed. Just make sure you understand how long you are required to keep old records. You may be able to scan them for space saving issues. You should keep any financial records for at least ten years, just in case of an audit.
Color code files for quick recognition. Making all financial records green and customer files red, etc. This can also help those of you who are more visual thinkers.
Go over your contracts for office equipment and figure out what is getting near its end. You may be able to save money by renegotiating before the contract automatically renews itself. 
Update all staff files. Make sure everyone has all the correct paperwork needed for their position and tax purposes.
Update all of your procedures for changes and additions.
Scan all the business cards you have collected and finally put them into a database.
Starting on the end of the year activities now can help save you time, and make your new year a little easier. Happy Organizing!